SMARTLAB STUDIO II SOFTWARE
SOFTWARE SUITE FOR RIGAKU X-RAY DIFFRACTOMETERS
Integrated Windows®-based software suite bringing together data collection, analysis, visualization and reporting, along with FDA 21 CFR part 11 compliance.
SmartLab Studio II is a new Windows®-based software suite developed for the Rigaku SmartLab series X-ray diffractometers that integrates user privileges, measurements, analyses, data visualization and reporting. Newly available for the MiniFlex, the modular (plugin) architecture of this software delivers state-of-the-art interoperability between the functional components. Just one click switches from measurement to analysis. Watch real-time scans from one experiment while simultaneously analyzing other data on the same desktop by selecting an appropriate layout. The software provides various analysis tools such as automatic phase identification, quantitative analysis, crystallite-size analysis, lattice constants refinement, Rietveld analysis, ab initio structure determination, etc.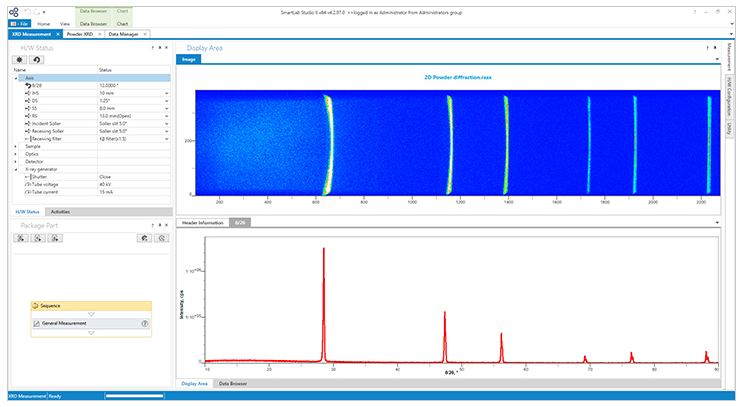 COMMON FEATURES
Seamless operation from measurement to reporting within a single software platform

Covers core XRPD applications, e.g. qualitative, quantitative, crystallite size, Rietveld analysis, as well as advanced analysis, e.g. Component Analysis, Indexing, Clustering, and PDF.

Clustering analysis and Data Visualization supports novel data treatment options.

Provides FDA 21 CFR Part 11 data integrity

Network dongle enables a maximum of 10 simultaneous workstation PCs
Advanced Analytical Addons for Powder XRD
POWDER XRD PLUGIN
Unified interface for all applications from qualitative analysis to structure determination

Direct Derivation (DD) method for standard less quantification of mixed crystalline and amorphous samples.

Whole powder pattern fitting (WPPF) based on Fundamental Parameters (FP) approach

Direct phase identification from 2-D data utilizing crystallite size information
POWDER XRD: QUANTITATION ANALYSIS PACKAGE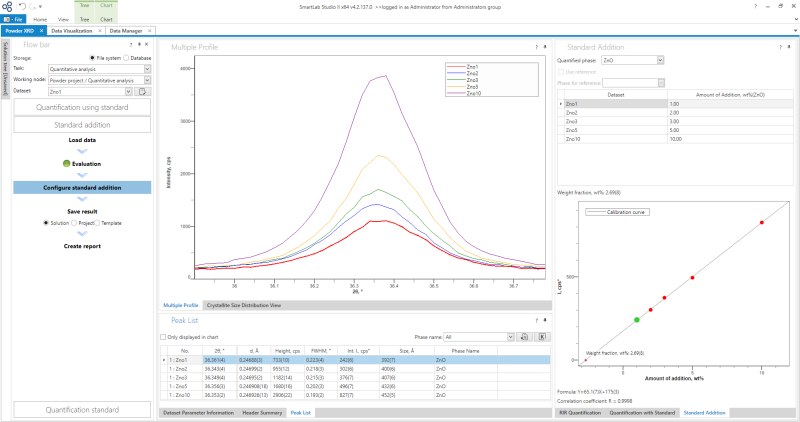 This option supports internal standard, external standard, and standard addition calibration methods. Calibration curves are used to quantify specific phases in the sample.
POWDER XRD: COMPREHENSIVE ANALYSIS PACKAGE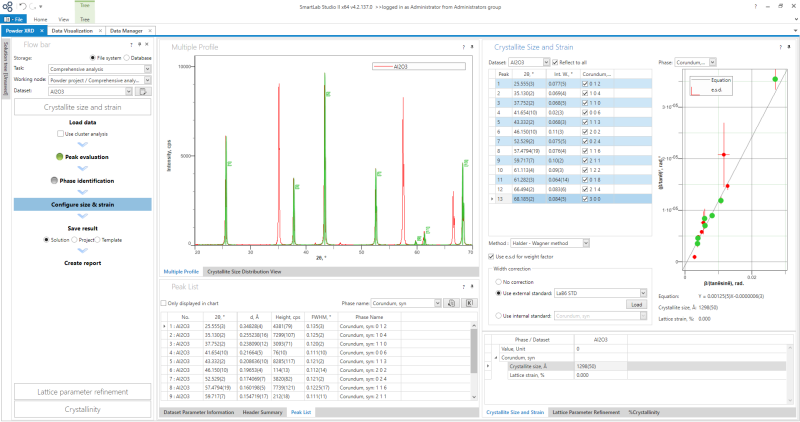 This optional package can provide analysis results such as crystalline size, lattice strain, lattice parameters refinement, % crystallinity based on fully automated profile fitting executed after loading measured data. Results obtained aid in understanding the relationship between structure and physical properties, and allow users to compare results across different samples.
POWDER XRD: DIRECT DERIVATION ANALYSIS PACKAGE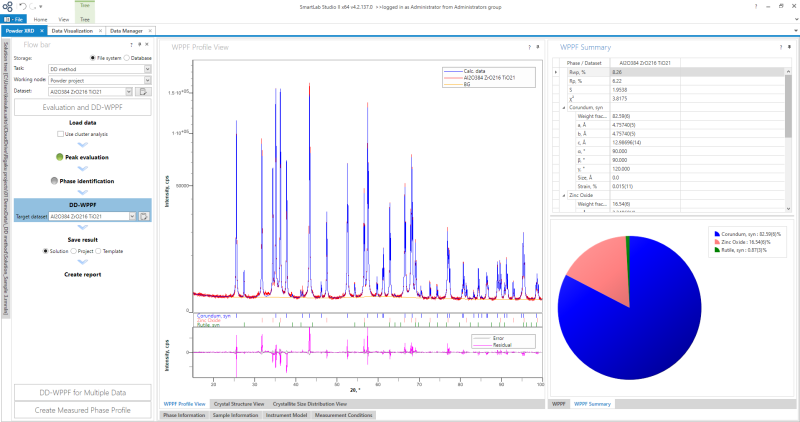 The direct derivation (DD) method was invented by Professor Hideo Toraya of Rigaku Corporation in 2016. It quantifies phases utilizing total integrated diffraction intensity and the chemical formulas for each phase being quantified. Compared to the classical RIR method, where a single integrated peak intensity and RIR number are used, the DD method is less affected by preferred orientation and peak overlap.
POWDER XRD: RIETVELD ANALYSIS PACKAGE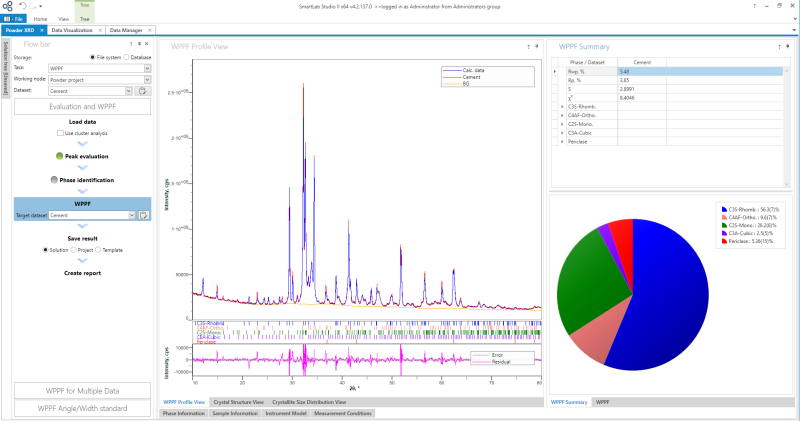 The package performs phase identification followed by Whole Powder Pattern Fitting (WPPF). The Rietveld analysis refines crystal structure or quantifies the phases directly from measured data, requiring neither reference samples nor a calibration curve. As an alternative, whole powder pattern decomposition (Pawley method) based on both the measured peak positions, and peak shapes is also supported.
INDEXING
Indexing measured powder patterns to determine unit cell parameters is an integral part of the Rietveld/WPPF and Structure Solution plugins.
The indexing module implements optimized DICVOL, TREOR and ITO methods with an interactive GUI for user modification of input parameters. The indexing runs are executed in parallel with the SmartLab Studio II package and can run in the background.
Within the Structure Solution plugin, Indexing can operated through the expert Guidance system that allows indexing for mixtures, rational indexing and smart volume limits based upon formula unit or molecular entity.
POWDER XRD: PHASE IDENTIFICATION WITH A VARIETY OF AVAILABLE DATABASES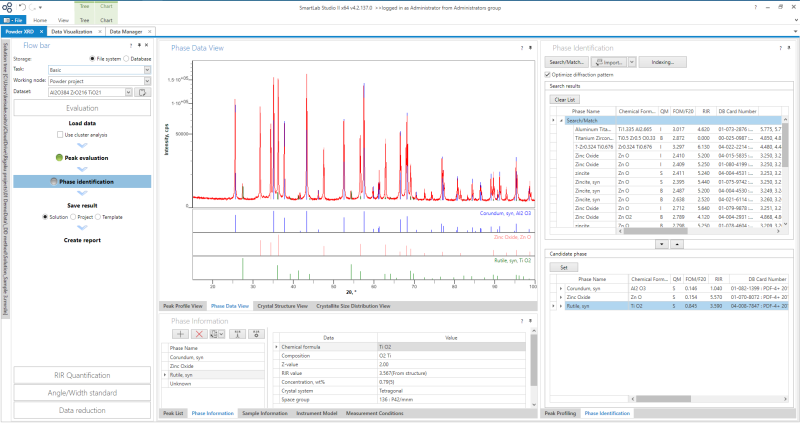 Peak position, FWHM, integrated intensity and crystallite size are calculated by profile fitting. Rigaku's optional "Hybrid Search/Match" uses peak-base qualification, which detects heavily distorted lattices (due to temperature effects, impurities or solid solutions) that are traditionally difficult to identify. It can also determine whether preferred orientation exists based on decomposed peak intensities.
Advanced Analytical Addons
CLUSTER ANALYSIS BROWSER
Allows clustering of XRD data files based on the similarity and difference (distance) between the measured diffraction features in the data and is very useful for solid form or synthetic material screening.
Clustering can be performed on the data as measured, histogram, or first derivative using a number of different similarity metrics.

Clustering results can be displayed as a dendogram or in terms of principal components.

Representative data files from each cluster or whole clusters can be forwarded to the analysis plugins for further characterization.

Selected clusters can be used to find similar data files previously measured.
XRD MEASUREMENT PLUGIN
User Guidance is an expert system overseeing instrument operation for beginners and experts

A Wizard tool recommends optimum measurement conditions to users depending on sample types

One-click operation from measurement to analysis if enabled

Measurement and analysis of 0-, 1- and 2-D data

In situ and operando measurements support synchronizing with an external control device
MRSAXS PLUGIN
Particle size and distribution analysis from 1-D or 2-D SAXS data

Size distribution, average, percentile D10, D50, D90 are calculated

Sample that does not transmit visible light can be analyzed

Analyze of samples with multiple particle size distributions
PDF PLUGIN
Calculation of structure function S(Q) and pair distribution function (PDF)

Optimized PDF derivation for multiple X-ray geometries, sample holders, and X-ray

wavelengths

Overlay calculated atomic distances from crystal structure on PDF data

Reasonable S(Q) and PDF profiles using ripple and damping corrections

Exporting of PDF profiles to PDFgui and RMCProfile software
Data Visualization Plugin
Advanced analysis and display of multiple data sets linked to a control variable

with

1-D data waterfall plots, and

2-D & 1-D data slideshow

in-situ and operando data treatment and representation

Temperature vs. XRD, Differential Scanning Calorimetry (DSC) profile vs. XRD data representation

Importing & linking data from an external device, e.g. potentiometer with XRD data

Spatial mapping data analysis and representation overlaid with sample snap-shot image

allowing e

xtraction of data from selected point or area

Synchronization with analysis software plugins, allowing analytical results display,

e.g. phase, stress, thickness, together with spatial mapping data and snap-shot sample image

Statistical calculation of analyzed results by analysis software plugin over an area mapped
XRD-DSC Plugin
Representing Differential Scanning Calorimetry (DSC) and XRD profiles against time and temperature

Analysis of DSC profile, e.g. starting temperature of exo- and endothermic reactions, energies absorbed and released

Visualize crystallographic phase change as a function of time and/or temperature