XRD Application to Pharmaceuticals
Webinar Series
This webinar series explains concepts of component analysis and standardless quantitative analysis in the pharmaceutical space. Email us at pharma@rigaku.com if you have any questions or requests for future Mini Tutorial topics.
Component Analysis and Standardless Quantitative Analysis for Pharmaceutical Applications
Traditional quantitative analysis of solid form content in a solid sample is challenging. Most notably in the production of representative standard calibration samples covering the concentration range of interest. In addition to weighing, mixing and homogeneity errors, the resulting boutique standards will likely be not representative of the unknown material being analyzed.
The ideal solution has always been a Standardless Quantitative approach that is representative and relevant to the materials being studied. Component analysis using equal area scaling can make this ideal quantitative analysis solution a reality.
Register for the next webinar here.
Simultaneous XRD-DSC - The Sum is Much Greater Than the Parts
Almost all analytical labs supporting the Pharmaceutical industry will have both Thermal analysis tools and X-ray powder diffraction. So, what is the benefit of combining simultaneous DSC and XRD measurements into a single attachment. It turns out that having the simultaneous thermal and powder data on the same sample yields a wealth of information that is often not easily accessible using each analytical technique separately. In addition to a discussion on the system itself, some of the benefits that will be introduced include:
The DSC – XRD data are collected on the same sample at the same time so unusual thermal events can be directly associated with a powder pattern to assess any structural changes, and conversely, unusual changes in the powder pattern can be associated with a thermal trace to determine if the changes are truly structural (polymorphic) or just preferred orientation or ripening.
Broad thermal events like re-crystallization can contain multiple transitions through various metastable polymorphs. Using the thermal trace as a guide, more detailed XRD scans can be performed to tease out metastable polymorph structure and powder pattern fingerprints. This can be a rapid screening approach for novel solid forms.
The XRD-DSC unit also has controlled humidity which can be used to quickly bracket stability and storage conditions for APIs, intermediates, and drug products. In addition to opening a huge playground of thermodynamic conditions for solid form investigation.
Register for the next webinar here.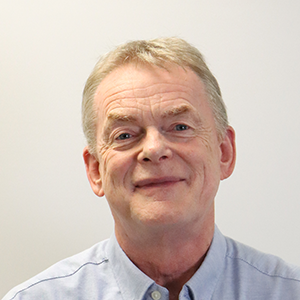 Simon Bates | VP of Science and Technology
Rigaku Americas Corporation | Texas, USA
Simon Bates is a true innovator in the field of science and technology, serving as the VP of Science and Technology at Rigaku Americas. With a PhD in Applied Physics from the prestigious University of Hull, Simon's expertise lies in utilizing Neutron diffraction to unravel the mesmerizing magnetic properties of rare earth materials. His groundbreaking neutron diffraction work was conducted at the world-renowned Institute Laue Langevin in Grenoble.
Continuing his quest for scientific exploration, Simon embarked on a postdoctoral journey at the esteemed University of Edinburgh, where he played a pivotal role in designing and constructing cutting-edge triple axis X-ray diffraction systems. These state-of-the-art systems were instrumental in studying the intriguing solid-state phase transformations. Simon's passion for high-resolution X-ray diffraction systems led him to contribute his expertise at both Philips NV and Bede Scientific, where he spearheaded the development of advanced X-ray diffraction and X-ray reflectivity methods for the measurement and modeling of advanced materials.
Simon's remarkable career path also includes a remarkable stint in contract research organizations, namely SSCI and Triclinic Labs. For the past 15 years, he has dedicated his time to studying solid-state pharmaceutical materials, delving deep into the intricacies of their structure, microstructure, and functional relationships in the solid state. Simon's contributions in this field have been invaluable, particularly in the development of advanced characterization methods for formulated pharmaceutical products.
In addition to his illustrious career, Simon holds an esteemed appointment as an Adjunct Professor at LIU in the Division of Pharmaceutical Sciences. Here, he imparts his vast knowledge and expertise by teaching a graduate course on solid state materials analysis, molding the minds of future scientists.
If you're eager to discover more about Simon Bates and his groundbreaking work, don't hesitate to connect with him on LinkedIn.